Managing your operating room
Advice and IT Tools for the management of your operating rooms
Our dedicated tool : Effibloc
Our experience has taught us that optimum and efficient management of an outpatient or traditional operating room cannot be achieved without real-time adaptation.
Developed with the assistance of AP-HP (The Public Hospitals of Paris), Effibloc brings spectacular improvements to the running of operating rooms, thanks to its 'demand pull' operating schedule management system (from the operating room), and its patient geolocation method which logs the patient's entire medical journey.
Effibloc is therefore a visual and easy-to-use tool, allowing you to work on three levels: planning, visibility and real-time adaptation.
Features
Ideal for planning and organizing your activities, Effibloc can either be used as a standalone tool, or can be integrated into your existing IS. It acquires data in two ways: by entering it via its interface or by importing your data from other software.
Therefore, in just a few clicks you can configure the use of rooms and staff shifts (operators, hospital workers, stretcher bearers, etc.), create a patient, configure the various rooms and their capacities in terms of technical facilities or size (patient transfer room, anesthesia room, operating room, Postoperative care room, etc.), manage the type of worker, etc
Main features
Once configured, Effibloc's main features are instantly available:
Work schedule;
Visibility of schedules (stretcher bearing, anesthesia, operating rooms, postoperative care rooms, etc.) with timetables and occupancy rates;
Suitable signage and display boards: outpatient waiting room, stretcher bearing, operating room area, corridors, postoperative care rooms, etc;
Real-time monitoring of the patient journey (geolocation of patients);
Real-time adaptation of schedules: schedules can be automatically readjusted according to the course of events (switched operations, early arrival of a patient, delays, etc.);
Alerts (risk of shift overlap, postoperative care room occupancy rate, etc.).
Advanced Features
Effibloc is equipped with advanced machine learning features. Therefore the tool will need a little time at the beginning to learn about your activity:
Level 1 schedule optimization proposals: Effibloc will automatically calculate the average time per operation and per operator. You can therefore use it to review your provisional schedule, for example during the weekly staff meeting, based on the log recorded;
Level 2 optimizations: depending on the objectives you assign to it (number of open rooms, end time, etc.), how well it knows your facilities (rooms, equipment, etc.) and your practices, Effibloc will make suggestions on how you can optimize your schedules by allowing the same operator to work in several rooms during the same shift. In addition, this schedule is updated in real time to adapt to the course of the day (emergencies, operations completed shorter than planned, etc.).
Geolocated monitoring
In addition to the schedule and real-time responsiveness, with Effibloc's geolocated monitoring of patient journeys, you can analyze your activity with reliable data:
Comparison of scheduled and actual tasks;
ANAP (French National Performance Support Agency)* indicators and design of ad hoc indicators;
Data by room, illness, day, etc.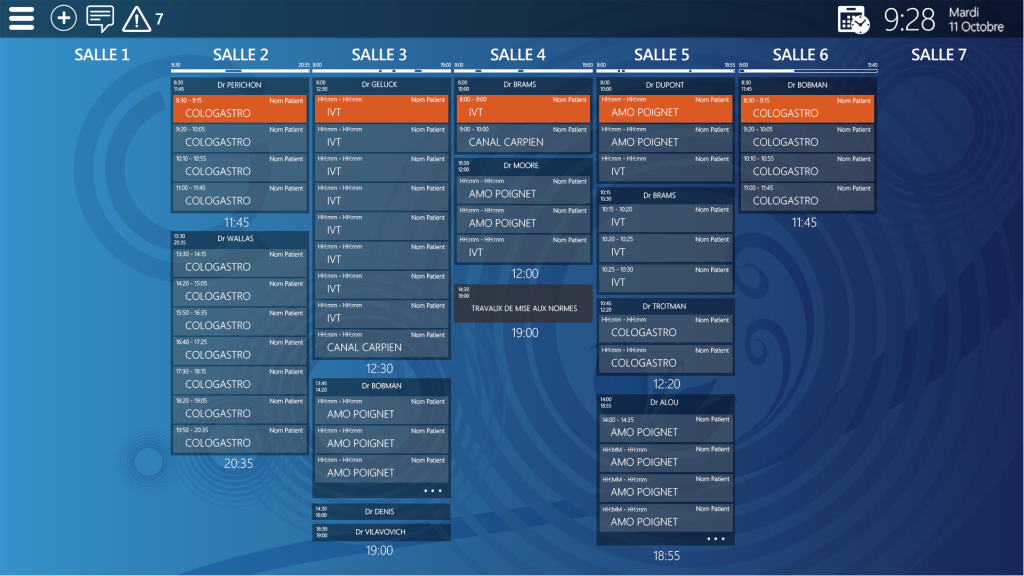 Visual display of operating schedule: Screen in the room and office of the room area

Visual display of patient journey monitoring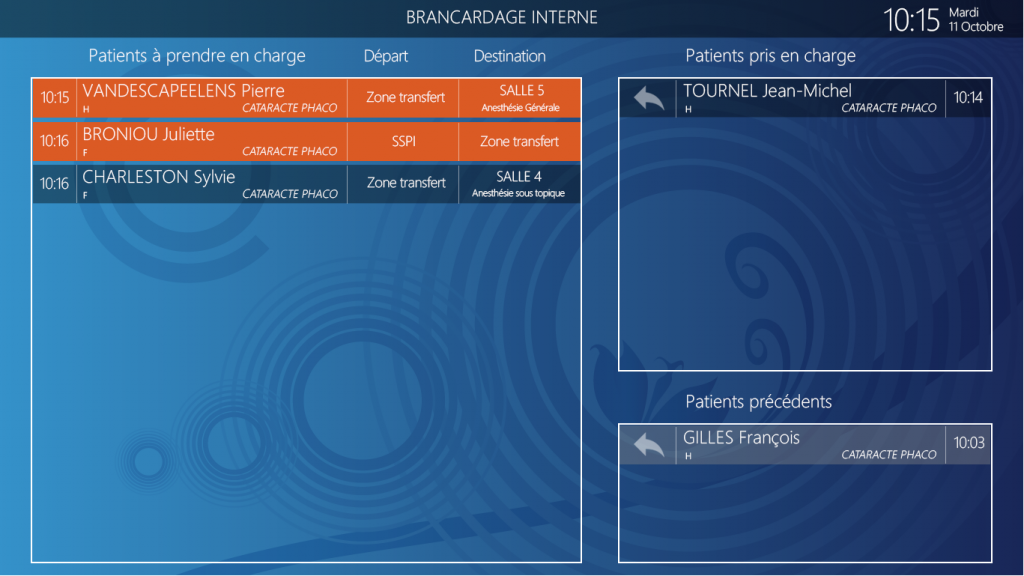 Visual display of the tasks of internal stretcher bearers and hospital workers: Screen in the patient transfer room and in the corridor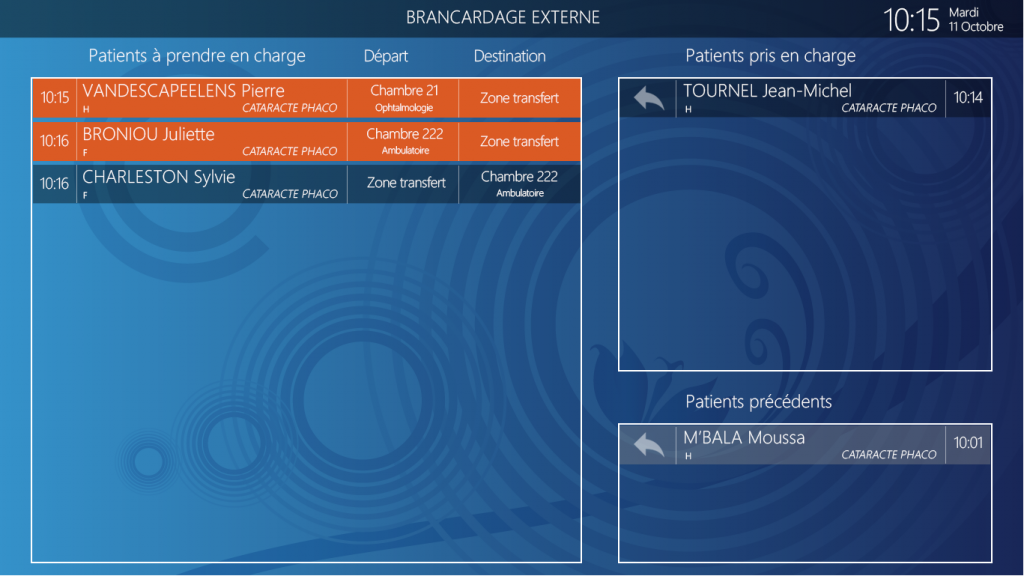 Visual display of the tasks of external stretchers bearers: Screen at the entrance to the area and in the stretcher bearers' room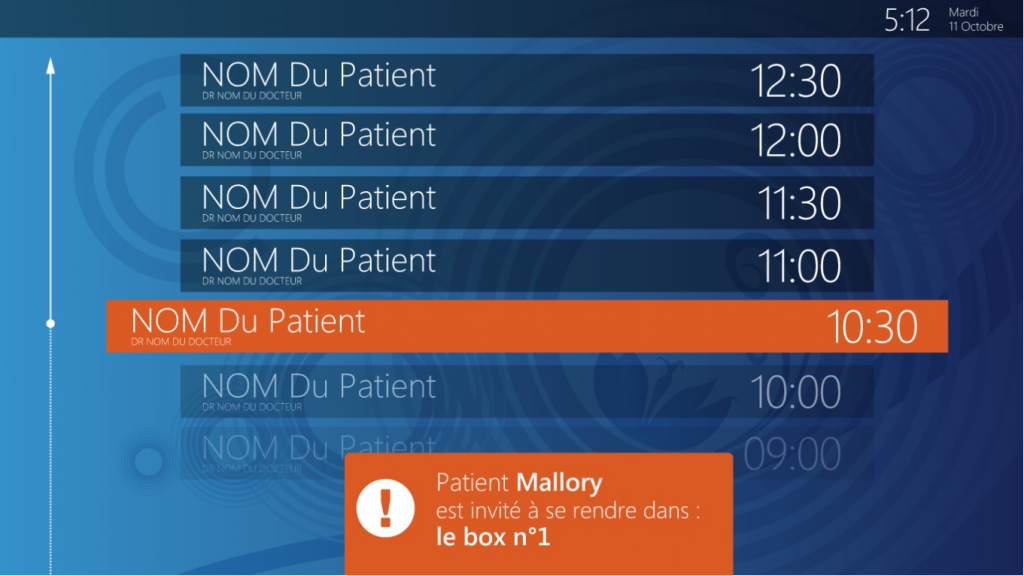 Visual display of patients called to the outpatient waiting room (screens located in the general waiting area)
Support and advice
To make sure you get the very best out of Effibloc, we provide support in several phases:
Discovery: We will help you analyze your organization, your data and the mapping of your operating room suite, so as to build the most suitable roll-out for your facility;
Training: employees are trained on the tool in two phases: one before implementation and the other during implementation;
Analysis of data within a project group: we can analyze your activity data together with you, and help you become self-sufficient in building and monitoring your action plans;
Change management: we bring our change management expertise to you, from helping you prepare the roll-out of the tool through to using its advanced optimization functions;
Self sufficiency: our support is not intended to be long-term. Its aim is to make you self-sufficient.
OUR OPERATING ROOM MANAGEMENT SERVICES
Scheduling and real-time actions
Enjoy the benefits of Effibloc and its advanced self-learning features to help you optimize your operating room schedules.
Increase reliability, with schedules based on your work practices.
Increase your flexibility, by being able to prioritize the number of open rooms or finish times.
Increase reactivity, with a tool capable of rescheduling in real time through its 'demand pull' system directly from the operating rooms, and share information with all parties involved.
Visibility
Thanks to Effibloc's simple graphical interface that's carefully designed for each professional, you can give each person the information they need with a personalized display that's always up to date. Communication is the number one way to improve tension in human organizations. With Effibloc, reliable and clear information is made available to all: everyone knows what is happening and what is going to happen, thus allowing tasks to be completed effectively.
Analysis
Perform your analysis work based on reliable data thanks to patient geolocation. Compare what was planned with what was completed or edit your indicators in just three clicks.
Support
No good tools come without good practices! Our change management experts are on hand every step of the way to help you make our tools your own while developing your ways of working according to your needs, with one goal: self-sufficiency.